Inaugural session of first G20 Working Group (CWG) meeting of Culture
Source: PIB Delhi
Culture is the platform to forge bonds between our countries and communities for creating sustainable and inclusive development pathways.: Dr. Virendra Kumar
Culture working group in G20 acts as a bridge between the countries and this group looks at human endeavour and humanity from the cultural perspective: Smt Meenakashi Lekhi
The inaugural session of the first G20 Working Group (CWG) meeting of Culture was organised today at Maharaja Chhatrasal Convention Centre (MCCC), Khajuraho, Madhya Pradesh. Minister for Social Justice and Empowerment Dr. Virendra Kumar and MoS Culture Smt Meenakashi Lekhi addressed the session.
Addressing the participants, Dr. Virendra Kumar said that culture is the platform to forge bonds between our countries and communities for creating sustainable and inclusive development pathways. Union Minister also added that integrating culture within the G20 agenda has been a key achievement and culture can be a powerful tool for promoting economic growth, social cohesion, and environmental protection. It can also help to foster greater cross-cultural understanding and cooperation, which is essential for addressing the complex challenges facing the world today.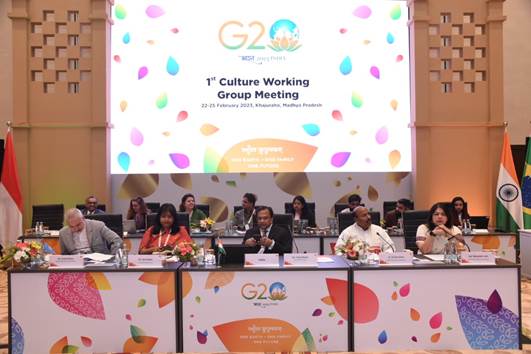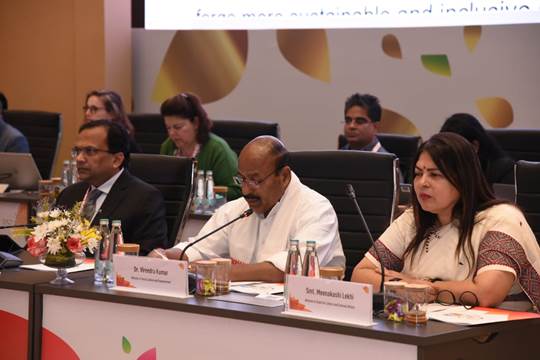 He further added that India's G20 Culture Track is built upon the idea of "Culture for LiFE" as a campaign for sustainable living. This idea seeks to promote sustainable living practices that are deeply rooted in India's rich cultural heritage such as eco-friendly methods of agriculture, water conservation, and waste management. Union Minister further explained that the theme Vasudhaiva Kutumbakam- One Earth, One Family, One Future of the 2023 G20 conveys a powerful message of striving for a just and equitable growth for all in the world, in a sustainable, holistic and responsible manner.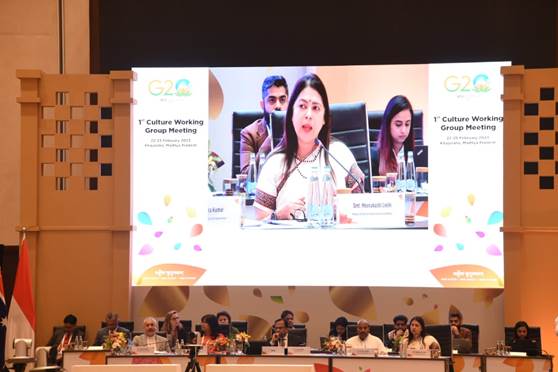 Smt Meenakashi Lekhi in her address said that the Culture Working Group in G20 acts as a bridge between the countries and this group looks at human endeavour and humanity from the cultural perspective because culture connects us all. She also added that in the present times, there is a lot of emphasis on Gender rights, woman equality but the bronze statue of the Dancing Girl belonging to Harappan era clearly demonstrates what gender equality was all about. It shows that even thousands of years ago in our country, gender equality not only gave recognition to women but also worshipped them as a form of energy, as deities, the Minister explained. Giving further insights into Indian culture, she said that Indian ethos has always stood for women's equality, environmental conservation and sustainability which are now the issues before the world today.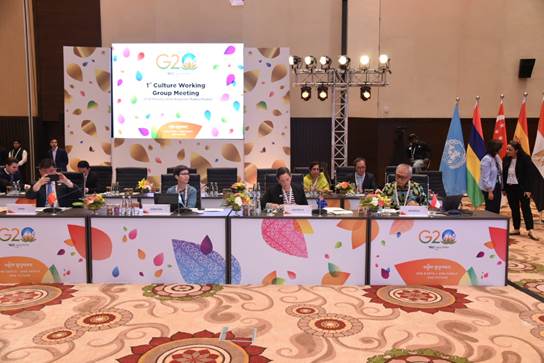 Smt Meenakashi Lekhi also added that the G20 working group has to deliberate upon the impediments in the way of repatriation of treasures. These are human treasures and these treasures are important not just from the economic point of view but are connected to cultural ethos of the country. Accordingly, time has come for the G20 countries to move beyond discussions and draw up an action plan to facilitate repatriation of antiquities which have been taken out of a country.
In his remarks, Secretary Culture Shri Govind Mohan said that Culture sector faced challenges during Covid due to close down of cultural spaces. While climate change has increased the vulnerability of this sector, there is now an urgent need to work together and protect our shared heritage. Culture acts a great lever for inclusion particularly for vulnerable sector and its inclusion in G20 will help to deal with many challenges that this sector faces, the Secretary emphasised.
On 22nd February the exhibition, 'Re(ad)dress: Return of Treasures' aimed at showcasing the spirit, need and future of the Repatriation of Cultural Property through select examples of successful return of Cultural Heritage to India was inaugurated at Maharaja Chhatrasal Convention Centre, Khajuraho, Madhya Pradesh. The exhibition, with the help of latest technology including hologram, highlights various aspects and challenges faced in repatriation of treasures. The exhibition also includes physical display of 26 priceless repatriated antiquities including Varaha, Dancing Ganesha Amin pillar, terracotta Yaksha, anthropomorphic figure, Parrot Lady of Khajuraho among others.
The first G20 Working Group (CWG) meeting of Culture will have four working group sessions, in which G20 member states, international organisations along with officials from the Ministry of Culture are taking part. During the course of the duration of the meeting till 25th February, cultural programs have been organised which also includes the Khajuraho Dance Festival Cultural performances.